Family gatherings around the holidays are a great opportunity to catch up and enjoy good conversation with loved ones. But the holidays can be especially challenging for those with a hearing loss. Here are some tips to hear your best at dinner parties.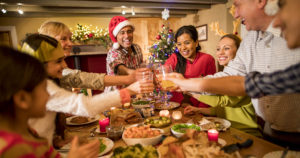 For many people with hearing loss, the holidays can be especially challenging. While large family gatherings offer a great chance to catch up with friends and family, holiday parties can be challenging if you have a hearing loss.
If you have hearing aids, it's important that you wear them to holiday events. You may think that with so much noise at a party or family dinner, hearing aids would just make things louder, but modern digital hearing aids aren't simply sound amplifiers. They are designed to filter out unwanted noise – like the clanging of dishes in the kitchen or the background music – and help you focus on speech.
Here are some tips for people with hearing loss to better enjoy their holiday gatherings:
Your Environment
Find a quiet corner – Stand away from loudspeakers and noisy kitchens. Position yourself in the quietest area of the room, to help you hear the conversation rather than noise.
Position yourself so you can see as many faces as possible, for instance at the end of the table. Ensure that background noise comes from behind you, so your directional microphones can help you focus on what you need it to hear: the speech in front of you.*
Buddy up – Find a friend or relative with whom you can hang out at the party. This person can help you to feel more included in the conversation and can repeat things you may not understand.
Turn down the volume and enhance the sound quality
Turn down the volume of background music so the general sound level is as low as possible. Everyone loves a good Christmas carol, but when those carols are in the background of many people's conversations, no one can hear them anyway.
Dish Duty – Hold off on cleaning the dishes until everyone has left. For people with hearing loss, the clatter of kitchen dishes can distract from dinnertime conversation.
Turn off the TV or have it in another room.
Let the eyes help the ears
Look at people's faces when they talk. This will help you to better understand what they are saying by lip-reading and looking at gestures. This also helps your hearing aids directional microphones to better understand what you are trying to hear.
Ensure good lighting, so that you can see your friends' and families' faces.
Remove candles and decorations from the table to make sure you can see everyone.
Help others help you
People without hearing loss often don't know how they can help you hear better. It is important that you draw their attention to your hearing loss and ask for help. Think about it: your host has cooked dinner and arranged everything in the hope of a pleasant and successful evening. Wouldn't it be nice to help them by telling them your needs, so that you all succeed and have a nice party?
* Your hearing aids may have an option to manually adjust the directional focus. Ask your Hearing Healthcare Professional if your hearing aids have this option.
Used with permission from Widex Blog. Originally published 15-Dec-2017