OAKRIDGE CONSTRUCTION UPDATE
Due to on-going construction at the mall, please allow more time for travel and parking before your appointment. Reminder that construction noises continue in and around Oakridge and the clinic.
Please note: There is elevator access from the street plaza – on the west side of Crate & Barrel and from the P4 and P5 parking levels.
If you are taking public transit to your appointment, please use the street plaza elevator access.
For those arriving by car, please enter through Cambie & 42nd and park on P4 (Level 2 Medical Dental) or P5 Rooftop (Level 3 Medical Dental).
You can turn left into Oakridge property when travelling NORTHbound on Cambie – just after passing W. 42nd Ave (on your right).
You can turn right into the Oakridge property when travelling SOUTHbound on Cambie – you will see two driveways, take the second one.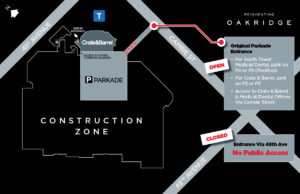 For the latest updates, please visit:
https://www.oakridgecentre.com/blog/category/reinventing-oakridge/