14500508_1275727932459268_8981410107164936005_o
OAKRIDGE CONSTRUCTION UPDATE
Due to on-going construction at the mall, please allow more time for travel and parking before your appointment. Reminder that construction noises continue in and around Oakridge and the clinic.
Please note: there is NO ACCESS to the elevator or escalator at the moment.
If you are taking public transit to your appointment, please use the fire exit stairs up to our offices. Golf cart services are available for anyone unable to use the stairs. 
For those arriving by car, please enter through Cambie & 42nd and park on P4 (Level 2 Medical Dental) or P5 Rooftop (Level 3 Medical Dental). 
Please note, the current roadwork is impacting the Cambie and 41st intersection. You cannot currently turn left into Oakridge property when travelling northbound on Cambie.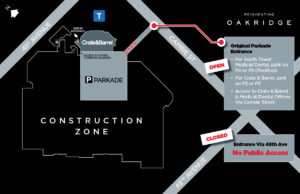 For the latest updates, please visit:
https://www.oakridgecentre.com/blog/category/reinventing-oakridge/